We decided to do a 7 day Yacht cruise with Sail Croatia and one of our stops was a town called Stari Grad. Its rumored to be the first settlement of Europeans, dating back 3,500 years. Originally settled by greeks, Stari Grad is a port town, with shops and an unseemly number of churches. There are more churches per capita than any other place on the planet.
One of the cool things we got to do while in Stari Grad was do some wine tasting. There is a local vineyard called Hora. We got to taste a number of different wines, as well as breads, olive oil, and other things that are all made on site. The vienyard is owned by the same family that has owned it for decades and it located on a UNESCO protected site because the walls that were built as terraces for the grape fields were put up by the Greeks over 3,000 years ago. (We didn't take a picture but did take on of us wine tasting.)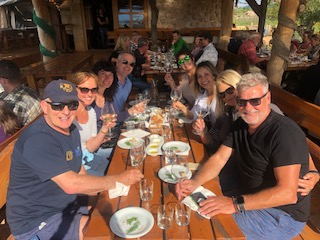 We really like the town of Stari Grad and was told that in the summer the Promenade was so crowded from people visiting you could hardly walk around. Its very inexpensive here, with dinner plates starting around $8 and you can easily have a nice dinner for 2 for about $30 without drinks. Pastries at the local shop were about $1 each and a scoop of ice cream about $1.20.
The cruise ship we were on was called the Kraljica Jelena, which is Croatian for Queen Jelena. We couldn't pronouce it, and don't expect you to be able to as well. The "j" is usually silent, like the j in Spanish, or a soft "h" sound. Our crew, all 8 of them, were fantastic. The ship only has 19 cabins, and since we were on the 1st cruise of the season, early May, there were only 8 cabins being occupied (16 total travelers). It made everything easier, and we got to know everyone by the end of the 2nd day. Our cruise was an "Explorer" cruise, but we were surprised to be the 3rd youngest couple, with the other couples all being in their 60s, 70s, and early 80s. They have planned rafting, some swim stops (the water is really cold right now) and biking. Its a beautiful ship and brand new. They just finished it last year.
Kraljica Jelena

Fine dining on Kraljica Jelena

Yummy dessert on Kraljica Jelena