The Capilano Suspension Bridge Park is a network of suspension bridges that span a mountainous valley just across the river from Vancouver, Canada.  It's easy to get to with GPS.  Also, you can't miss it because there are a ton of signs.
Anyway, here's the address:
3735 Capilano Road, North Vancouver, BC.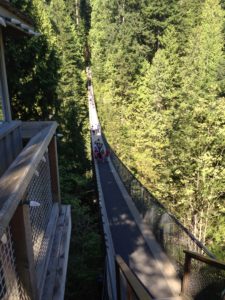 Apparently, the original Capilano Suspension Bridge was used in lumber activities, and was owned by a lumber company, as a way to get people across the valley but was sold about 100 years ago to a private citizen, who eventually sold it to the City of Vancouver.
Anyway, we came up here on a day trip from Seattle, where I had just competed in a Men's Physique competition, called the Emerald Cup.  I have some competition and pre-show professional photos on my Instagram account.
The drive from Seattle to Vancouver is doable if you get up early, since its about 2 1/2 hour drive each way.  I was here the first time in 1989 when I was going through the A-6 Intruder training squadron at the Whidbey Island Naval Air Station, and back then there was only the single suspension bridge, and the park was free.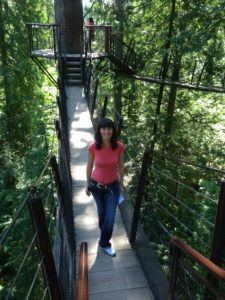 Apparently they decided to add a bunch of other bridges and call it the "Treetop Park", and started charging admission.  Oana had never been here before, so I decided we should pay the fee and check it out.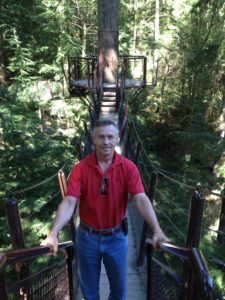 The park is fun for adults for about 30 minutes.  After that you are ready to leave and have seen the whole park.  If you have kids, they will likely be entertained for an hour or so.  It's a great place to let them blow off steam and go to bed early so you can enjoy some of the downtown Vancouver night-life.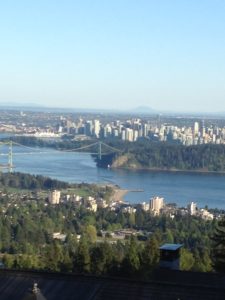 Because we didn't have much time, we ended up having an early dinner at a place that overlooked the city called Fraiche, but unfortunately it's now closed, which is typical in the high-end restaurant business.  I think the down-side was it was just not easily accessible to people in Vancouver, as it was on a steep hill with lots of twists and turns, but amazing food and a fantastic view.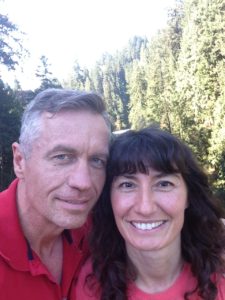 Additionally, you can just drive a few minutes up the road, and take the tram to the top of Grouse Mountain and get a really spectacular view of Vancouver.  If you made it all the way to the Capilano Suspension Bridge Park, you should not miss Grouse Mountain.