Casa Magna Marriott – Cancun
Going to the Casa Magna in Cancun was one of those unexpected trips that we tend to take.
We were in Denver for a week-long real estate conference, and the morning of the second day we woke up and decided the conference was boring and it wasn't going to net us any new business for our Las Vegas Real Estate Brokerage, so after breakfast, I asked Oana if she wanted to stay or go back to Vegas.  She said she'd be okay leaving, but didn't want to go back home.
I quickly jumped into our employee reservation system, where I can see all the accurate flight loads, how many (and which) seats are open, and the seniority of airline employee standby passengers.
After putting in a few warm weather destinations (Oana doesn't do cold), I found a flight from Denver to Houston that left in three hours, and then a flight from Houston to Cancun that was wide open.  I told Oana and she said "Yes!" and I listed us and checked us in as standby passengers while she packed.
We checked out of the hotel in Denver without having to pay for unused nights, and grabbed our rental car and headed to the Denver Airport.  I was so excited I was speeding a bit, and was pulled over by a Colorado State Highway Patrolman, who let us go with a warning after realizing I was an out-of-state driver.
We easily made the flight to Houston, and on the flight from Houston to Cancun we got 1st class!  Always a great way to start a vacation.
Since we didn't arrange any transportation or hotel, we asked the pilots who were going to the layover hotel if we could ride with them and they said yes.  We got to the layover hotel, the Casa Magna Marriott in Cancun, and I flashed my airline crew badge and asked for the "crew rate" for a room.  We ended up being upgraded into a full ocean view room!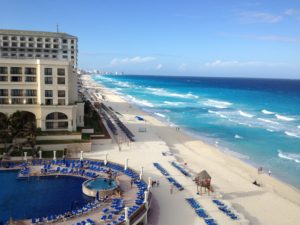 The Casa Magna is a 5 star hotel, and they have an all-inclusive option.  This was about the 10th time I'd been here, because I used to fly LAX-CUN (Cancun) all the time, an easy 2 day trip with 25 hour layover.
There is a big pool here, and also a few restaurants.  We did walk down the street to a good Italian restaurant that was on the bay side, and watched the alligators swimming right by our tables.  Yes, there were actually alligators there.
There is a substantial buffet at the Casa Magna, and it's very reasonably priced.  With my crew discount, it was even more affordable, it was something like $5, and I think it was $11 without the discount.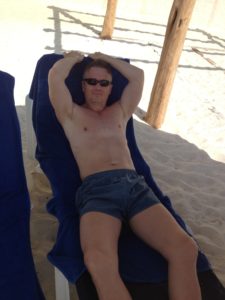 We stayed here about 4 nights, and basically did the reverse order, flying back to Las Vegas through Houston.  We even ended up getting a 1st class seat to Houston!
The weather was nice and the water was very warm.  If you've never been to Cancun, the Gulf of Mexico is much warmer water than Hawaii or any California Beach.