We visited the Chateau de Chantilly as a day trip from Paris.
It was quite easy actually.  We went to the Gare du Nord train station and bought a round-trip ticket to Chantilly.  It cost us about $5 each to buy tickets, and that's a story in itself.
So since we were newbies in Paris, we had the old style credit cards without the computer chip that we don't use in the US as much as they use in Europe, and we were just minutes away from the train leaving, but the machine wouldn't take our card.  Fortunately we had cash and we asked someone to buy us the tickets with their card and we would just give them the cash, so we handed over roughly 20 Euro and they handed us 2 round trip tickets and we were on our way to Chantilly!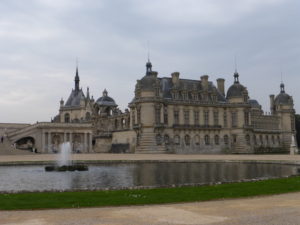 The train drops you off within a short walking distance to the town of Chantilly as well as the Chateau.  It's easily very walkable, and the town is very cute.  They have a number of Patisseries and cafes as well as restaurants.  The town is known for two things, it's Chantilly Lace and the Chantilly Cream.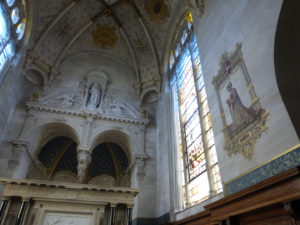 One of the things we liked about touring Chateau de Chantilly was that there were not many tourists here.  Since it's a train ride away, and not many tourists are adventurous enough to risk public transportation away from Paris, there weren't many people here.  Even the train itself was pretty empty.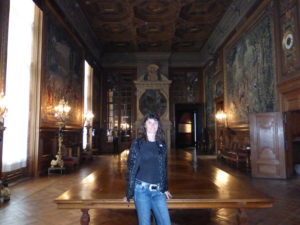 The grounds of the Chateau are quite expansive.  There are stables, smaller houses, and a vast garden area.  Fortunately there is a Disneyland-like trolley car (if you are old enough to remember those) that will take you around the grounds.  It runs very often and on a set schedule.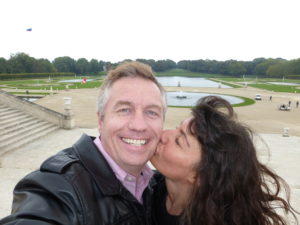 We thoroughly enjoyed our trip to Chantilly Chateau.  We recommend going solo vs. paying a ton of money for an organized tour.  We are about 50/50 when it comes to tours, vs just seeing places on our own, and this is one of those "do on your own" trips.