The Driving Creek Railway is one of those "touristy" things in the Coromandel Peninsula that we did mostly because it was on the way to Hot Beach, which was where we were going to overnight.  There is another funny story that starts here, which I will tell in a separate blog post.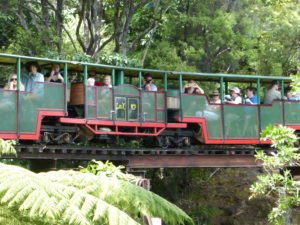 Why is it called Driving Creek Railway?
Well apparently there used to be a stream that ran down the mountain, and loggers would dam it up and then a small lake would form.  The loggers would cut trees and put them in the lake and then when they were ready to deliver the trees to the bottom of the mountain, they would break the dam and the creek would "drive" the trees to the bottom, so it became known as Driving Creek.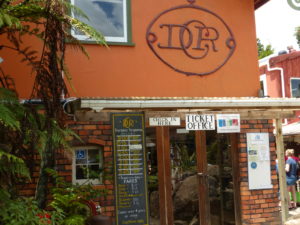 So the story behind this little railway (that goes to the top of the mountain) is that it was built initially to get clay from mountain down to the base, where it could be used to make things.  The owner and builder of the Driving Creek Railway, Barry Brickell, slowly built the train line up the mountain, having to borrow money to continue building.  Apparently, at one point, the local bank told him they were going to call the loan because he was behind on payments.  They told him he should be charging admission to take people to the top of the mountain.  He did just that, and they claim they take about 50,000 people a year to the top, which is impressive, considering each train takes about 20 people total.  Our estimate was that they run about 3 trains at a time and probably do 8 runs a day, so 160 people a day total, which times 300 days a year, gets you real close to that number.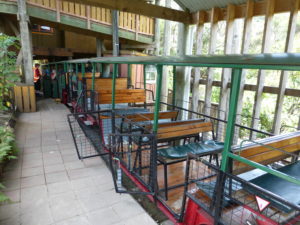 The ride on the Driving Creek Railway Train is very "Disneyland like" meaning its a slow, safe ride, and has lots of things to look at going up the mountain.  The driver also tells stories and explains facts about the Railway, while also managing all the switchbacks and track changes.  There are a lot of very cool art things, some embankments are totally supported by recycled things like tires, bottles, etc.  There are paintings, and lots of clay sculptures, as you go up the mountain, especially since Barry was a clay sculptor.
The best part of the trip was the view from the top.  We were very happy with how far you can see, including the peninsula that Auckland is on, as well as many islands and beautiful seas.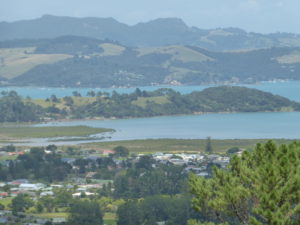 There is a structure at the top that looks like a fort.  Its the end of the line, and there are a lot of great panoramas that can be taken from the top.  Although the Driving Creek Railway is about the only thing you can do here, its worth doing if you are on your way to Hot Water Beach or just checking out the Coromandel Peninsula.