Hot Water Beach – New Zealand
We decided to go to Hot Water Beach and spend a day on the beach.  Since it was summer in New Zealand in January, the 80 degree Fahrenheit weather was just perfect for us bring form Las Vegas, where it is normally in the 60s in the winter.
The reason the beach is called Hot Water Beach is because there is literally scalding hot water pushing its way through the sand and flowing into the Pacific Ocean.  This creates an incentive for people to bring shovels to the beach and dig their own hot water spa.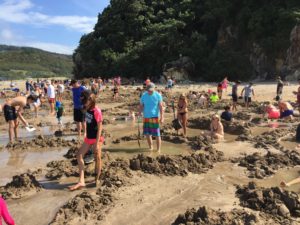 We were lucky to find an AirBnb within walking distance of Hot Water Beach, and our hosts even had shovels for us to take to the beach.  Of course, I did all the digging, and Oana did all the videos and took all the pictures.
If you haven't used AirBnb you can use my link and get a $75 travel credit for signing up.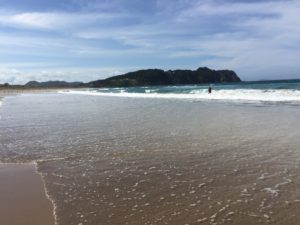 The water temperature was comparable to Hawaii beaches, more than Southern California Beaches.  It was very nice (January is mid-summer in New Zealand) and people were going from their hot water spa to the beach and back.  The demographics of people on Hot Water Beach included old people, young people, couples, etc. but mostly tourists.
We asked a few of the people if they had been there before and virtually all of them said it was their first day.  We met people from Canada, Australia, The US, and England, mostly.  All tourists.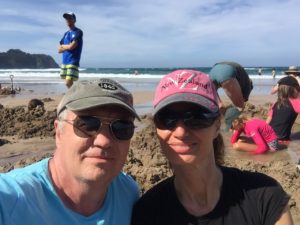 Hot Water Beach is a must see if you are going to New Zealand.  Its just too much of a life experience to miss seeing.