How does someone end up in Kauai by accident?  Well we did!
We decided to take a break and do a Hawaii trip. We flew from Las Vegas (LAS in airline lingo) to Los Angeles (LAX), and were listed on the 1st flight to Maui (OGG).  There were 16 standbys and only 6 open seats we didn't get on.
So we re-listed to a Honolulu (HNL) flight, and didn't get on that one either.
We didn't get on the flight to Kona either.
Or the next Maui flight.
Or the next Honolulu flight.
Feeling frustrated I listed us to Kauai, even though there were only 4 open seats.  There were about 14 standbys, but as luck would have it, my 18 years of seniority placed us #3 and #4 on the standby list.
They called our names and we got the last two seats on the plane —  we each had window seats about 4 rows apart.  We didn't care; we were going to Hawaii!
Since we were traveling non-revenue standby, there is no guarantee we will get on a flight.  Because of this we wait until the last minute to book our hotel.  Last minute is usually as we are boarding the flight or once we land.
We found a place (on our phones) that was near Poipu Beach, and not only could we get a room for $170 (which is super cheap for Hawaii) they gave us a 30% discount because I am a travel industry employee!
We were on our way!
Kauai is beautiful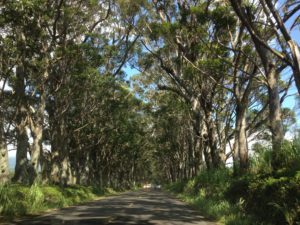 A must-see place on Kauai is the tree tunnel.  It's a mile long stretch on Maliuhi Road where the entire road is shaded by Eucalyptus trees that form a tunnel.  The easy way to find it is to follow the signs to Poipu Beach from Lihue Airport (LIH); it's on highway 520.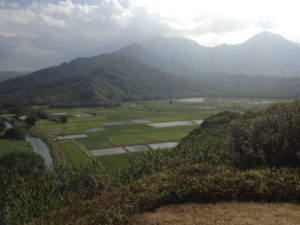 Kauai is very mountainous and the soil is very rich.  They grow everything here.  A friend of ours has a 5 acre farm and grows avocado and papaya!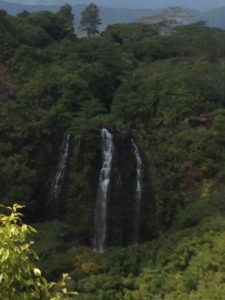 There are waterfalls everywhere.  Most are only accessible via helicopter.  This was about as close to a waterfall as we got during our trip.  It rains every day on this island, but not the entire island.
We call Kauai "Chicken"
Ok this is an inside story.
We noticed that anywhere we drove on the island there were wild chickens.  Not just a few, a lot, and they are everywhere!  I have no idea why people don't just go round them all up.  One thing we didn't see while we were on Kauai were feral cats!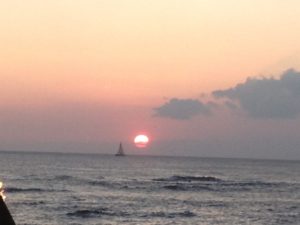 We had a magnificent dinner at The Beach House, a restaurant on the south side of the island.  We understand from fellow travelers that it's the best restaurant on the island.  The entire restaurant sits on the beach and this is the a picture taken from the lawn of the restaurant.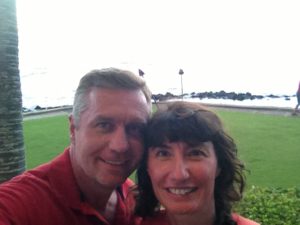 We enjoyed Kauai.  We plan on making our way back here again soon!