A Wedding!
As an airline pilot, you can imagine that many of my friends are airline pilots.  So when one of them is getting married in Hawaii, it's exceptionally easy to say "yes" to an invitation.  Airline pilots tend to have a lot of days off in a month compared to regular job holders as well as free standby travel benefits.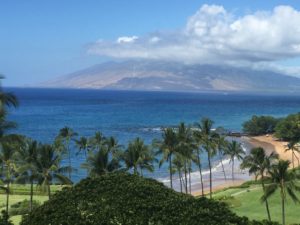 It wasn't a surprise when my airline pilot buddy Bill was getting married in Hawaii. I just casually asked Oana if she wanted to go to Hawaii for his wedding and she immediately said yes.  What worked out even better for one of the pilots was that he was scheduled to fly to Maui and the layover hotel was only a few miles away, so he not only had a free hotel room for his 1 night stay, he was also paid to fly to the wedding!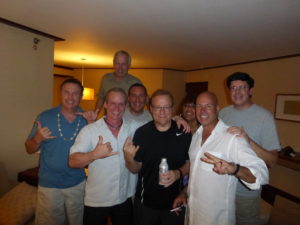 Not every pilot brought their wife.  I brought mine though!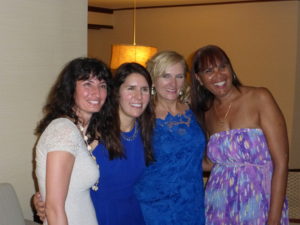 Maui
We used the opportunity to enjoy Maui, not usually our island of choice in Hawaii, as we've been to the Islands about 10 times in the last 3 years and 8 of those times were the Big Island.
The hotel we stayed at was the Marriott Wailea Beach Resort.  Despite having to be moved from our original room to another room (because of renovations on the property), to finally our 3rd and final room, we did enjoy the resort.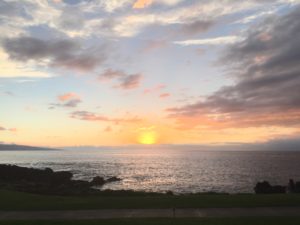 My favorite part of the resort was the gym.  Most hotel gyms are terrible.  I know because I've been in almost every hotel gym in the US (or it seems) and theirs is in the Top 5.  I'd have to say the Airport Hilton in ORD (Chicago) is a sure Top 3, since it's a full gym.
There is also a Starbucks on the resort, and the restaurant food was good.  There are also a bunch of good smaller restaurants in Kihei.
Wedding on the beach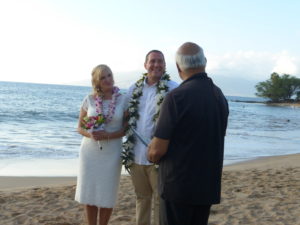 The wedding was short and fun.  Although there was not technically a best man or maid of honor, I did get to sign the wedding certificate as the witness for the groom.
Beware of Jellyfish
We took the opportunity to swim in the ocean every day, and the one day Oana decided to go swimming by herself, she ended up being stung by a jellyfish, which are common in that area.  Fortunately she only had a few square inches on her leg and arm so after a few days she was back to normal.
Now what?
So the wedding was great, and the next day most of the pilots picked up and flew back home, but we decided to make a week-long stay at the hotel.  One reason was we hadn't been to Hawaii in almost 6 months (we go 3-4 times a year some years) and plus we were upgraded to a 2 room suite, complete with living room, two balconies, and a great place to have a post-wedding party.
A luau!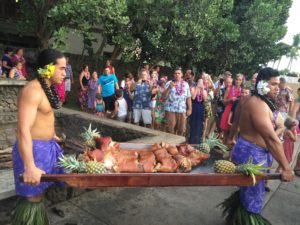 We did the touristy thing and attended a luau.  Above is the pig we ate.  Yes, we are omnivores.
Haleakala
We used the opportunity of a few days with newly married Bill and Tam to go exploring the island.  One of the fun things we did was visit the Haleakala National Park (it's an old volcano).  If you don't mind missing out on some sleep, sign up with one of the tour companies to get picked up at 3 AM and ride down the mountain on a super heavy bike starting at dawn.  Seeing the volcano at dawn is like looking at the lunar surface.  The temperature difference between the top of the volcano and sea level is about 40 degrees.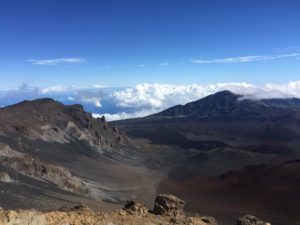 All in all we had a fun time at the wedding and a fun week with newlyweds Bill and Tam.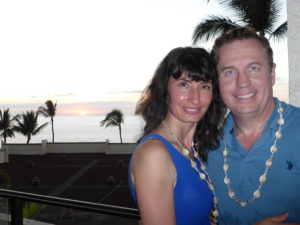 Aloha!