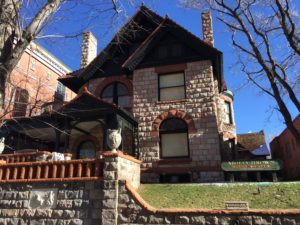 Many years ago, I was introduced to Molly Brown through the musical The Unsinkable Molly Brown.  My children were very young at the time and they loved the musical.  They chanted the Belly Up to the Bar Boys song for days after watching the musical performed at the Tuacahn Amphitheater in St George, Utah.  Most people might know of Molly Brown from the Debbie Reynolds rendition in The Unsinkable Molly Brown film from 1964.   Molly Brown was an actual person and this past week I had the opportunity to visit her Denver home.  This historical lady that impacted all of our lives was known as Margaret Brown and it was Hollywood that turned her into Molly Brown and a caricature.  Margaret Brown's Denver Victorian mansion is located near downtown Denver, Colorado at 1340 Pennsylvania St and is open for docent guided tours.  Margaret Brown had a interesting life besides her adventure on lifeboat number 6 of the RMS Titanic.  Margaret Brown was a social activist who fought for better working conditions and days off (in those days miners worked 6 or 7 days a week) and fought against child labor.   She was a suffragist, a philanthropist, an aspiring politician (she ran for Colorado's US Senate seat), a world traveler, an actress, an acting teacher, a mother, a wife, and so much more. She was awarded the French Legion of Honor for her good works.
Margaret Brown was born Margaret Tobin.  She married James Joseph Brown (known as JJ Brown) who was a dozen years her senior.  This was a love match that didn't last.  They had two children:  Lawrence (known as Larry) and Catherine Ellen (known as Helen).
The docents do a great job of sharing Margaret Brown's life story with the visitors and giving a tour of the lovely and interesting house.  The Molly Brown House Museum Tours run every 30 minutes and last about 45-60 minutes (which means there are two tours in the house at one time). I'd recommend showing up early because tours fill up.  You may want to spend your time awaiting the start of your tour by watching the short documentary film in the basement about Margaret's life as well are reading the information displayed there prior to your tour so you can have a better understanding of the tour and get more questions answered by the docents.