Buy a round trip ticket for the Funicular to Brunate
Take the funicular to the top (about 1,500 feet from where you started)
Stroll up to the Volta Lighthouse.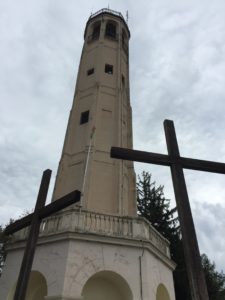 The "stroll" up to the lighthouse is more like a 30 – 45 minute endurance walk up the steep streets and paths to the top of the mountain where you will be rewarded with amazing panoramic views of Lake Como, the Alps, and the surrounding villages for many miles.  Remember to admire the homes along the way.  We saw one with a hanging swimming pool!
The lighthouse (Faro Voltiano) honors and is a memorial to the physicist, chemist, and electrical pioneer Alessandro Volta who invented the first electrical battery and discovered methane.  Volta lived in Brunate for a short time.  The lighthouse is not open during the summer, however, you can still admire the impressive views from its base. The Volta Lighthouse is nearly 100 years old (it opened in 1927 on the 100th anniversary of Alessandro Volta death), but in this part of the world, that makes it a youngster.
The village for Brunate is a nice place to grab a refreshment after your hike to the lighthouse before taking the funicular back down to Como.  If you're adventurous or feel particularly guilty about the vast quantities of pizza and Aperol Spritz you have consumed, you can hike from Molina to Brunate and the lighthouse or from the lighthouse to Molina with bus or taxi transfer to Como (all day adventure, possibly longer for some of us).
Tip – people stand on the steps of the funicular and do not board unless they have the seat they want.   Each of the funicular compartments is rated for 14 persons, not just the 4 sitting down!  I've never seen 14 persons in a compartment, but I've seen people left behind and waiting for the next funicular!