So we decided to do something really touristy.  We visited the Hobbit Village called Hobbiton that was used for the filming of Lord of the Rings as well as the Hobbit movies.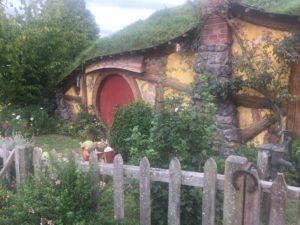 A Hobbit Hole – Hobbiton
We are big fans of Lord of the Rings as well as The Hobbit.  I read the books as a child, and we saw most of the movies on opening weekend.  What's most interesting about Hobbiton is that this set was completely demolished after filming the Lord of the Rings movies.
Apparently, after using it for Lord of the Rings, the owner of the land, the Alexander family, kept getting people that would show up and want to see where they filmed The Shire.  Fortunately, their sheep farm is just about and hour and 15 minutes outside of Hamilton, NZ, so its a pretty easy drive to get here.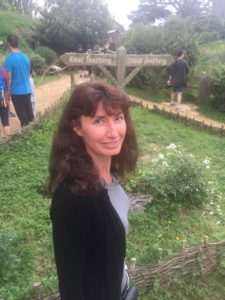 As the story goes, Peter Jackson found the location himself, via Helicopter.  It was perfect for what they wanted to film, and the Alexander family allowed them to use part of their massive sheep farm for filming.  They built the entire village with disposable materials, so they could be dismantled easily.
A few years later, Peter Jackson came back and asked if they could rebuild the set so they could film the Hobbit movies.  The Alexanders said yes, but this time they asked that everything be made permanent, so that they could offer tours.  It was a smart move.  Its $79NZD (about $60 US) to get in, and they only give guided tours.  This place has got to be raking in $$.  They told us that people have said they made the trip to New Zealand just to see this place.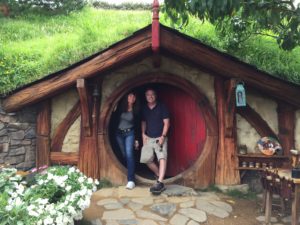 Unfortunately, none of the Hobbit holes have insides.  This is because all those scenes were filmed in studios, so they could control lighting, sound, etc.  The doors open inside, and that's about it.  They look like they are dug into the hills, but they aren't.  They are just facades.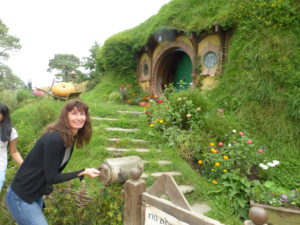 Our recommendation is that if you are in the area is to take a look.  Its one of those places that once you've seen it you're good.  There are certainly bragging rights to having been here, and travel cred as well.  Its something you can do in a morning or afternoon.  There is also a Hobbiton feast, but that's more money and we didn't fell like we needed to eat a ton of food Hobbit style.