Montserrat
The Santa Maria de Montserrat Abbey is an easy excursion from Barcelona by train (it's about 30 miles or 48 km).  Montserrat means serrated mountain.  This day trip is one of the coolest experiences we had in this part of Spain.  There are two funiculars and it's worth your while to purchase tickets for both.  One of the funiculars takes you to the Monastery and the other one takes you to the top of the mountain where you overlook the Monastery and the town below.  The Monastery was founded in the 10th century with 70 monks and it still operates today.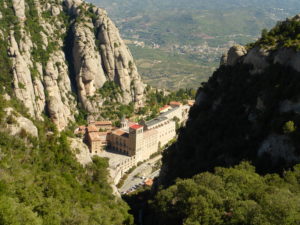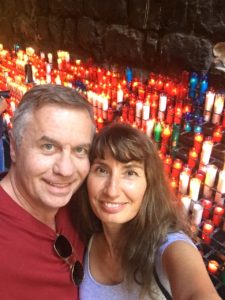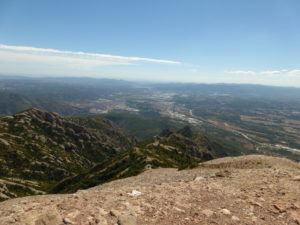 The top of the mountain is an elevation of 4,055 ft or 1,236 meters above the town below and it is the highest point in the Catalan lowlands.  There is a hike after the second funicular that takes you to the hermitage and to the top of the mountain.  If you have time, take the funicular up to the top of the mountain, hike around and then hike all the way down to the monastery level.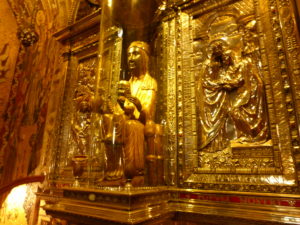 The church is the place to see the Virgin of Montserrat (the black virgin) — the wood has aged and turned black so the Virgin is a black lady.  You can see the statue in between church services (look at the schedule) and there is usually a line so give yourself time.
There is a museum on the monastery level and a there are gift shops and a few places to eat.  Be sure to start your trip early from Barcelona so you have time to fully enjoy everything this excursion has to offer.